Two aspiring scientists represented Jefferson County Schools with winning projects at the Eastern Panhandle and West Virginia State Science and Engineering Fairs this year!
At the regional level, Andrew "Russ" Stone of Washington High School took first place in the Earth and Environmental Sciences category with his project entitled "Mealworms and Styrofoam." Additionally, Stone took home one of the two Grand Prize awards for his research. As a result, he will represent Jefferson County Schools and the Eastern Panhandle of West Virginia at the International Science and Engineering Fair in Dallas, Texas in May. Stone also won several special awards at the event, including the RICOH Sustainable Development Award, the United States Air Force Award, and the Naval Science Award.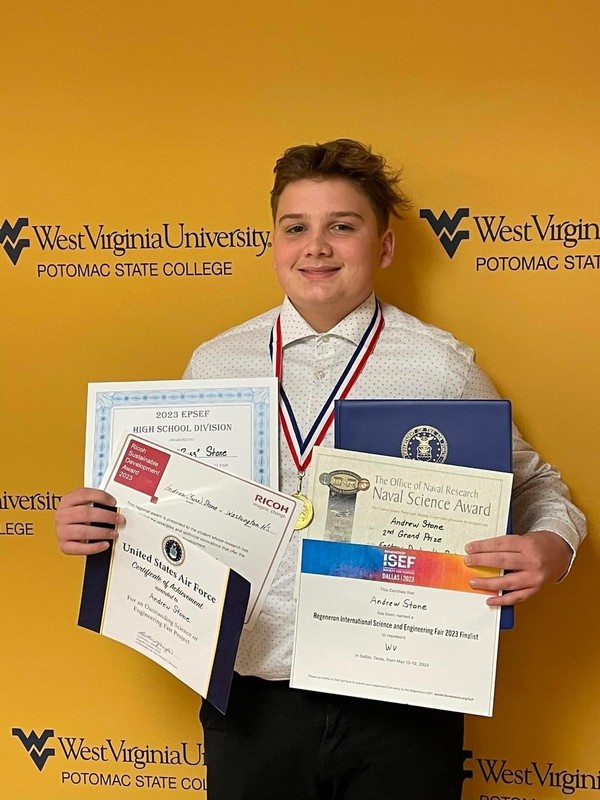 At the state competition, Shepherdstown Middle School 7th grader Hazel Hitt won first place in the Animal Sciences category for her project entitled "Lanternflies Surprise!" As a first-place winner in the middle school division, she is now eligible to apply for the Thermo Fisher Scientific Junior Innovators Challenge, the nation's premier STEM research competition for middle school students.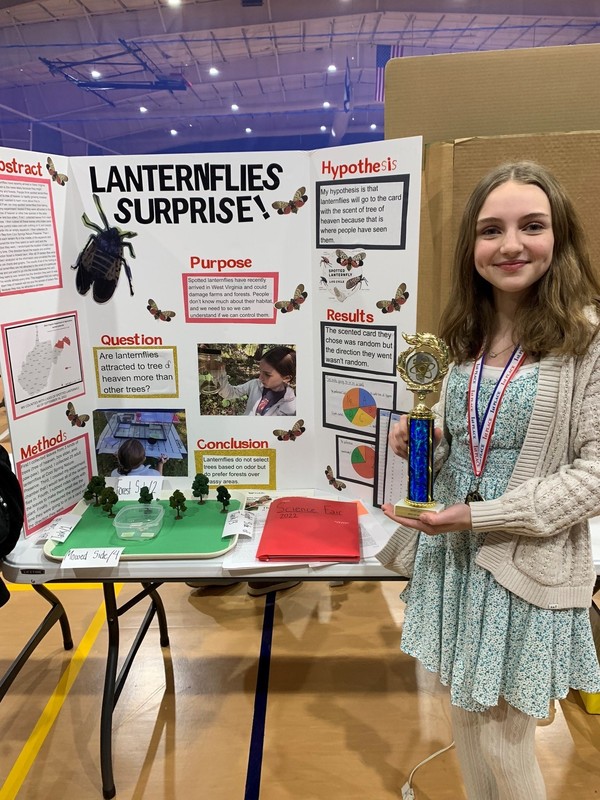 JCS is proud to recognize each of the students from South Jefferson Elementary, T.A. Lowery Elementary, Shepherdstown Middle, and Jefferson and Washington High Schools who competed in this year's West Virginia Science and Engineering Fair. Below is a complete list of regional winners who advanced to the statewide event on March 6. Congratulations to all for a job well done!
Elementary Division
1st Place, Engineering: "The Best Pencil?" by Amelia Stone, Grade 4, T.A. Lowery Elementary School
2nd Place, Animal Sciences: "Which Dog Treats Do Shih-tzus Like?" by Lilly Carter, Grade 5, South Jefferson Elementary School
3rd Place, Chemistry: "Is Crystallization Affected by Mineral Concentration?" by Maddie Kline, Grade 5, South Jefferson Elementary School
3rd Place, Earth and Environmental Sciences: "Is the 5-Second Rule True?" by Spencer Devaney, Grade 4, South Jefferson Elementary School
3rd Place, Physics and Astronomy | Special Award, Best Data Visualization: "The Race Is On: Friction vs. Speed" by Keagan Bauer, Grade 5, T.A. Lowery Elementary School
3rd Place, Plant Sciences: "Pumpkin Soup" by Louise Grantham, Grade 4, South Jefferson Elementary School
Middle School
Animal Sciences:
1st Place and Grand Prize: Lanternflies Surprise! by Hazel Hitt, Grade 7, Shepherdstown Middle School
3rd Place: Dogs and Music by Samantha Didion and Mason McConnell, Grade 7, Shepherdstown Middle School
Special Awards: Most Surprising or Unexpected Results - How Do Decorations Impact a Pumpkin's Decay Process? by Luna Anderson, Grade 8, Harpers Ferry Middle School
High School
Earth and Environmental Sciences:
1st Place and Grand Prize: "Mealworms and Styrofoam" by Andrew "Russ" Stone*, Washington High School
Honorable Mention: "Tap Water vs. Natural Water Sources" by Reese Cannon and Samantha DuVal, Jefferson High School
1st Place, Animal Sciences: "How Music Affects the Way Horses Work" by Addison Beliveau and Eliza Quinn, Jefferson High School
1st Place, Plant Sciences: "Engineering Carbon Dioxide Chambers to Aid in the Cultivation of Boston Ferns" by Moira Hally, Jefferson High School
Mathematics:
1st Place: "Analysis of Baseball Statistics" by Liam Healey and Zach Secrist, Jefferson High School
2nd Place: "Monopoly Math" by Sean Viteri, Jefferson High School
Behavioral Sciences:
3rd Place: "How the Tempo of Music Affects the Listener's Heartbeat" by Andrew Oyerly, Jefferson High School
Honorable Mention: "How a Person's Body Language Changes when They Speak Different Languages" by Andrea Cedillo, Jefferson High School
NOAA Taking the Pulse of the Planet Special Award: "Temperature Changes Affect the Velocity of the Ocean" by Savannah Smith, Jefferson High School