CHARLES TOWN, W.Va. - Three Washington High School (WHS) students swept the 1st, 2nd, and 3rd-place categories at the 2023 Four-Way Speech Contest sponsored by the Charles Town and Shepherdstown Rotary Clubs in partnership with the Wild and Wonderful Toastmasters Club of the Eastern Panhandle. Sophomore Rebekah McGivern won first place in the March 14 contest, qualifying her to advance to the regional competition in April. Junior Kaitlyn Hartzell took the second-place award, and junior Brennen Satterfield placed third.
A total of six students from Jefferson County Schools competed in the contest. The remaining participants included WHS junior Chase Davis, WHS junior Nicolas Doza, and William Stacpoole, a sophomore Air Force Junior ROTC at Jefferson High School.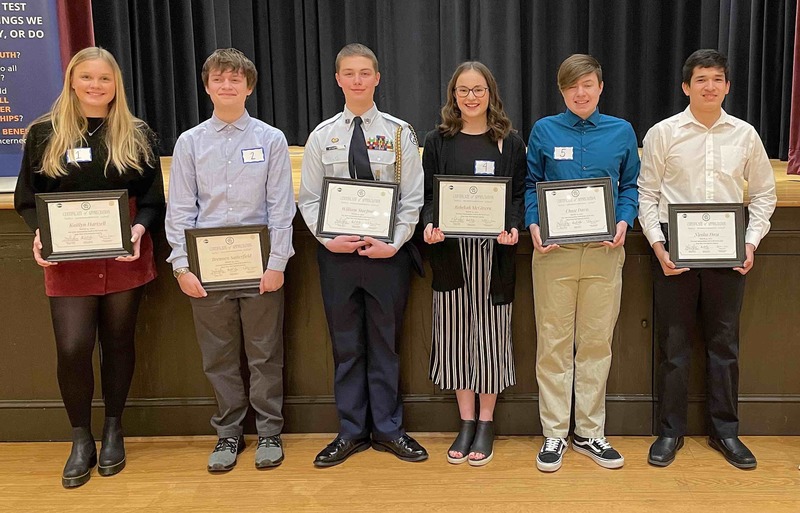 Aimed at encouraging high ethical standards among young people, the Four-Way Speech Contest invites area high school students to present original speeches analyzing a topic of their choice from the perspective of Rotary's core principles. Those principles subject every action to the following four-question test:
Is it the truth?
Is it fair to all concerned?
Will it build goodwill and better friendships?
Will it be beneficial to all concerned?
This year marks the first time the two Rotary clubs have worked together on the annual competition, with the Toastmasters providing mentorship to the contestants.
"We commend the students for their courage to put themselves out there," said Julia Yuhasz, past president of the Charles Town Rotary Club. "Public speaking can be scary for many people, but it is an important skill to master. Developing this lifelong talent will serve them well, and we are proud that Rotary can provide fertile ground for that growth."